Salam and Hi Bloggers!
Sori la sebab lama tak update entry. Actually skarang ni aku agak sibuk settlekan Pre-wed/ Wedding Fantasy Photos from few of my clients. Alhamdulillah tak sangka plak benda yang aku minat camni bleh buat bisnes. Thanx to all sebab tanpa korang, aku takkan blogging sampai skarang. And if aku tak kenal dunia blogging ni, for sure bisnes ni takkan wujud ehek.
Okeh so untuk entri kali ni, aku akan announce bloggers yang terpilih dalam edisi pertama untuk menerima Header terbaru mereka. Pemilihan ni dibuat secara random. So kepada yang belum terpilih tu, sabar je okeh? Doa banyak-banyak semoga terpilih untuk edisi kedua nanti ehek. Sesiapa yang belum tau lagi pasal ni, boleh la masuk kat link entry 'Pimp My Header'. Semua dah di explain kat situ. Wokeh, so tanpa membuang masa, meh kite tengok peserta bertuah edisi pertama...
1. CoKeLaT-RaWkZ
(Blog: Bila Cokelat Menulis)
2. AnnalinaRamdzan
(Blog: Blog Anak Dara Den)
3. Khairul Antasha
(Blog: Khairul Antasha)
4. Lovely Emy
(Blog: Lovely Emy)
5. Ninie Nordin
(Blog: Her Story)
Design Header ni aku buat based dengan theme yang dorang ni pakai kat dalam blog dorang. Unless if dorang tukar theme last minute. If this happen, possibility the Header might not blend as I expected la. So kepada pemilik Header kat atas ni, Please email me at semangka_land@yahoo.com so that I can send you the original format/ sizes and at the same time aku bleh ajar korang camne nak letak Header tu kat dalam blog korang okeh?
Kepada yang belum join lagi, cepat-cepatlah join seblom tarikh tutupnya nanti. So that's all for now folks. I need to continue my work. Aku harap kepada yang terpilih kat atas tu akan suke la Header baru dorang and at the same time bleh attract more traffic la nanti hoh. Ermm lepas ni bleh la korang masuk pertandingan Header tercantik kan? huhu. Also, korang bleh la tukar banner lama dengan yang baru ni aight! Atleast aku and the rest of bloggers tau yang Header korang dah kene pimp kan yerRrr ehek.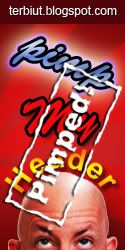 Okeh, time to pen-off. Salam all and happy blogging! XD